Case Study: Ark Veterinary Surgery
Rachael Honeyman RVN
Working in such a caring profession, like the veterinary industry, means that we inherently care about the environment and the natural world too, and many of us have already made steps in our home lives to reduce our impact on the earth – it only made sense to look at the way we work and try to make similar positive changes within practice.
For us, it started just a few months ago with an idea to reduce the amount of puppy pads we used and disposed of in kennels – since then, lots of positive steps have been made within our practice.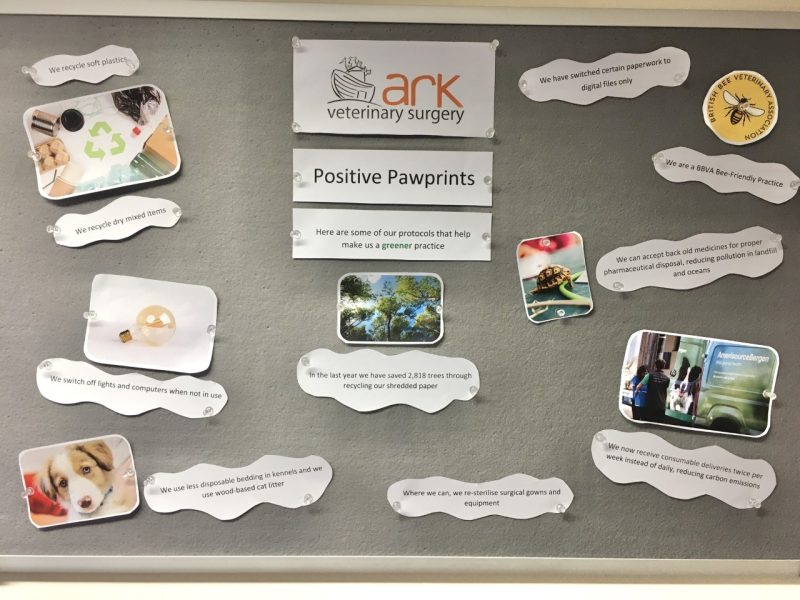 Ark Veterinary Practice Green Board
Photo Credit: Rachael Honeyman
Firstly, the Vet Sustain 'Greener Veterinary Practice Checklist' was downloaded giving us a starting point and became the basis for many ideas and changes. The Vet Sustain website is visited regularly for inspiration and the BVA x Vet Sustain Greener Veterinary Practice webinars are attended too.
It was great to discover that we were already following some green practices such as:
Using a water-saving, alcohol-based surgical disinfectant for hands rather than one that needs to be washed off

Using a washable and reusable Bair Hugger system

All the electricity we use comes from renewable sources

Our consumables are delivered twice per week instead of daily to reduce emissions

We use a water distilling machine instead of purchasing more distilled water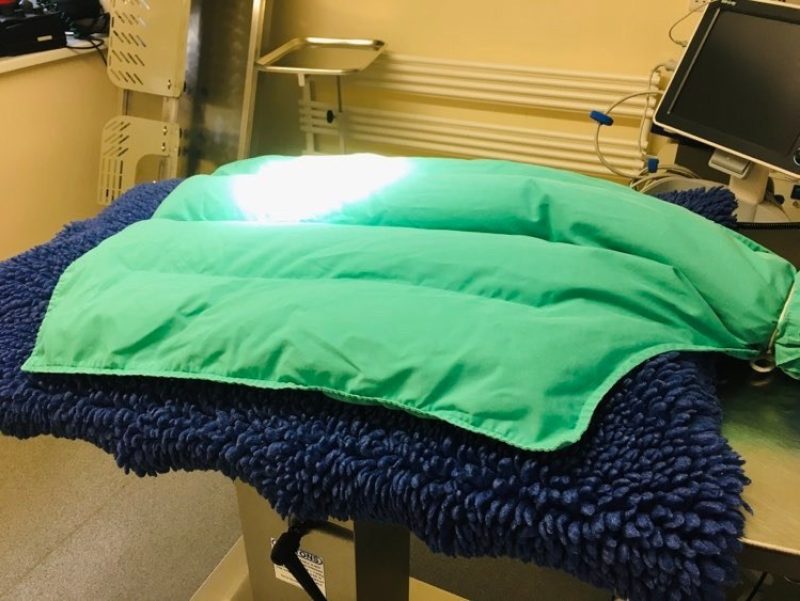 A Bair Hugger is used to reduce patient hypothermia.
Photo Credit: Rachael Honeyman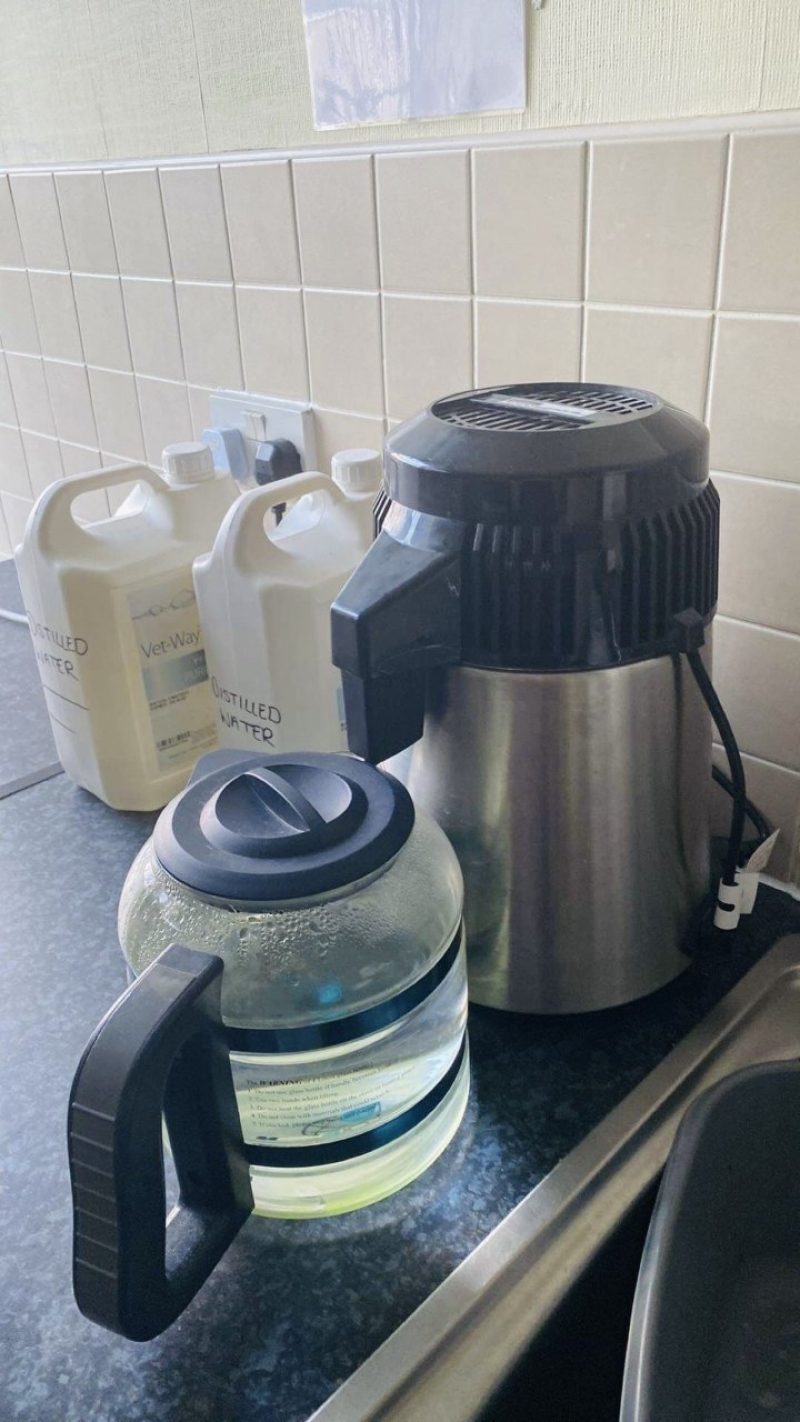 A water distiller is used instead of purchasing distilled water in single use bottles.
Photo Credit: Rachael Honeyman
Here are a few of the initial changes we were able to make easily:
We stopped using disposable puppy pads in every kennel and instead provide extra absorbent vet beds if needed

We switched to using vet beds for theatre tables instead of disposable pads, which are washed and stored separately – this move was backed up by research and reading studies that compared the safety of using disposable versus reusable fabrics

From the same research, we began re-sterilising and reusing surgical gowns and drapes where possible

Purchasing cat litter made from recycled paper for our cat ward

Switching various documents and paperwork to digital files only

"Turn off after use" reminders have been attached to computers and light switches

Providing paper bags for clients if needed instead of plastic bags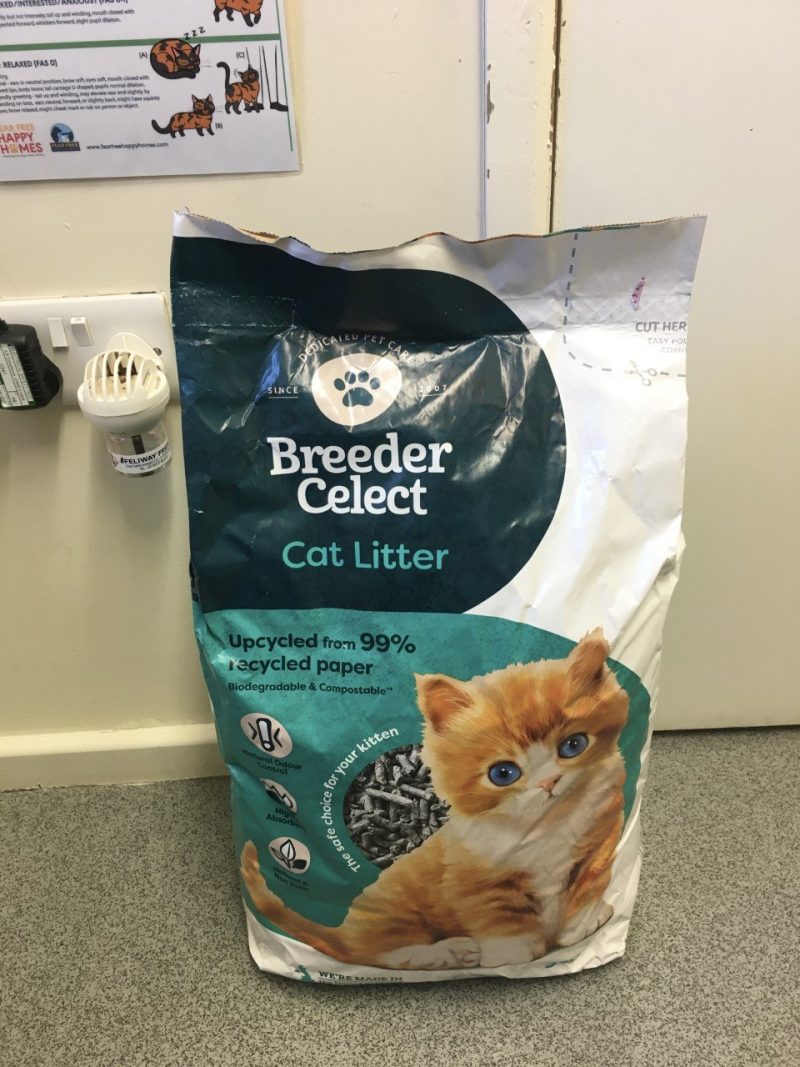 Some sustainable switches have included changing to a more environmentally friendly cat litter.
Photo Credit: Rachael Honeyman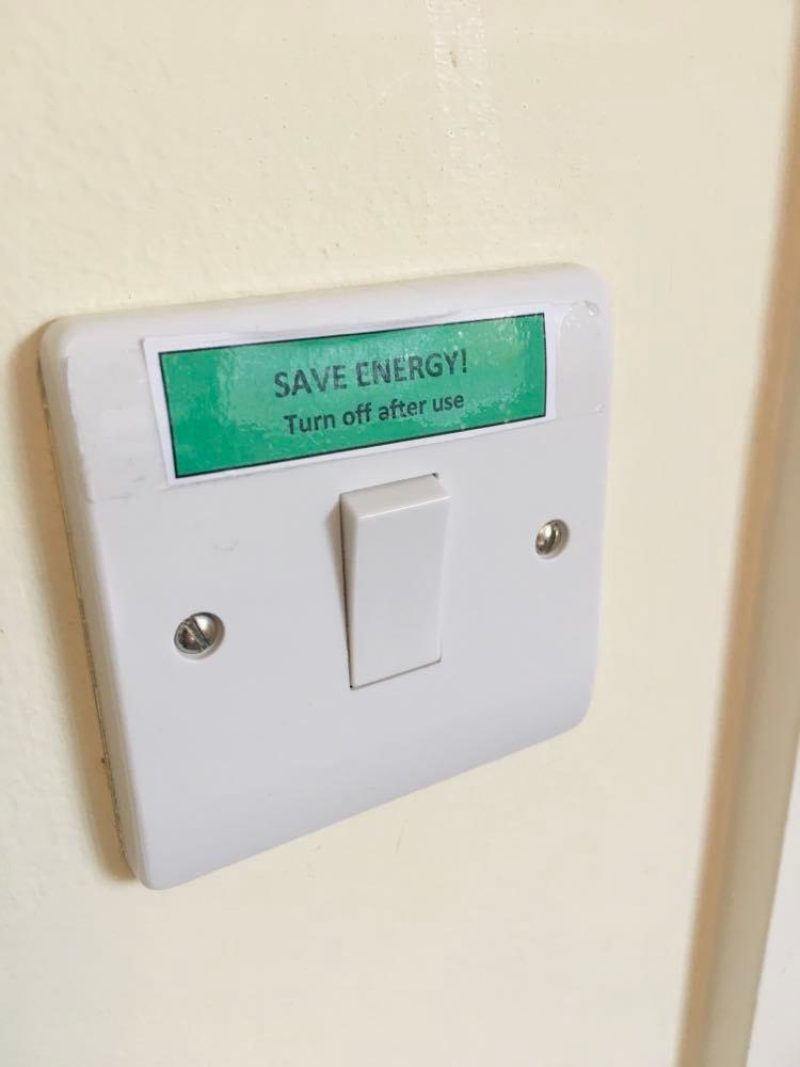 Reminding people to turn off switches when not in use helps us reduce our electricity usage.
Photo Credit: Rachael Honeyman
We already recycle our shredded paper which helped us save 2,818 trees in one year alone, as well as recycling dry mixed items with the local council.
A discovery was made that our local Co-op has a soft plastic recycling station, and in just a few months we've gone from throwing away all food packaging in the staff kitchen, to filling up huge bags full of soft plastics and saving them from landfill. This particular change has been staggering - all practice members have really taken it on board and we are saving so much from going into our regular waste.
Tip: If you don't already recycle soft plastics, check where your nearest Co-op store is, as they can recycle so much including: crisp packets, chocolate wrappers, bread bags, soft fruit punnets, and even yoghurt lids. Other retailers also now provide this service such as Tesco and Aldi.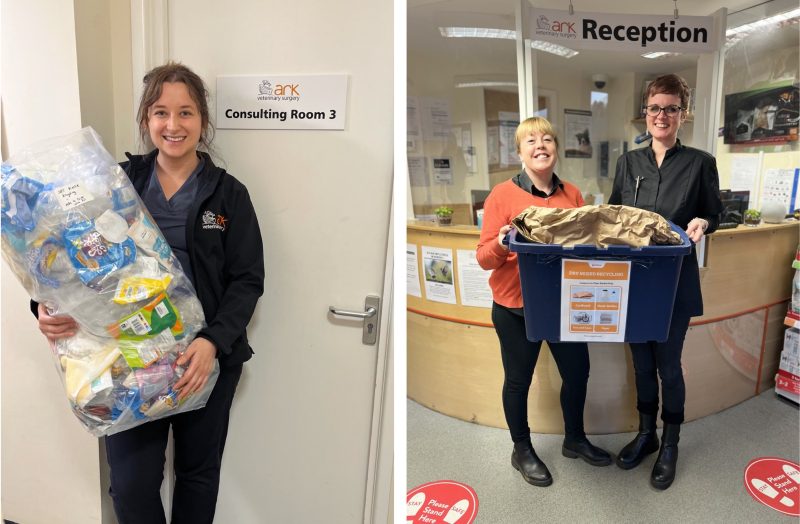 We have expanded what we collect for recycling to reduce what goes to landfill.
Photo Credit: Rachael Honeyman
Earlier in the year we also started a herb garden to grow food for our herbivore patients such as rabbits, and started a flower garden to attract bees and other wildlife. We are a member of the Bee Friendly Practice scheme with the British Bee Veterinary Association, and encourage discussions about bees and the important and positive role they play in our environment. Our garden now has a beautiful abundance of dandelion, mint, parsley and other herbs, as well as colourful flowers and fragrant lavender.


Our Bee Friendly Garden allows us to have fresh herbs for our patients and flowers to attract bees and other wildlife
Photo Credit: Rachael Honeyman
Other recent updates we have made include laminating and re-using a variety of forms in the back, such as blood pressure charts and in-house urinalysis sheets, and purchasing bulk items to dispense into smaller containers such as washing up liquid and hand soap for staff bathrooms.
We have also recently installed a recycling bin for empty blister packs, which is already starting to fill up nicely.


Other ways we have reduced our landfill usage is recycling medical blister packaging and refilling soap dispensers.
Photo Credit: Rachael Honeyman
All of our nurses are also undergoing further training on the use of low-flow anaesthesia. Expelled anaesthetic gases are one of the biggest sources of environmental contamination from veterinary practices, and by utilising low-flow anaesthesia we can significantly reduce this impact – as well as reducing the volume of gases that our anaesthetised patients are exposed to.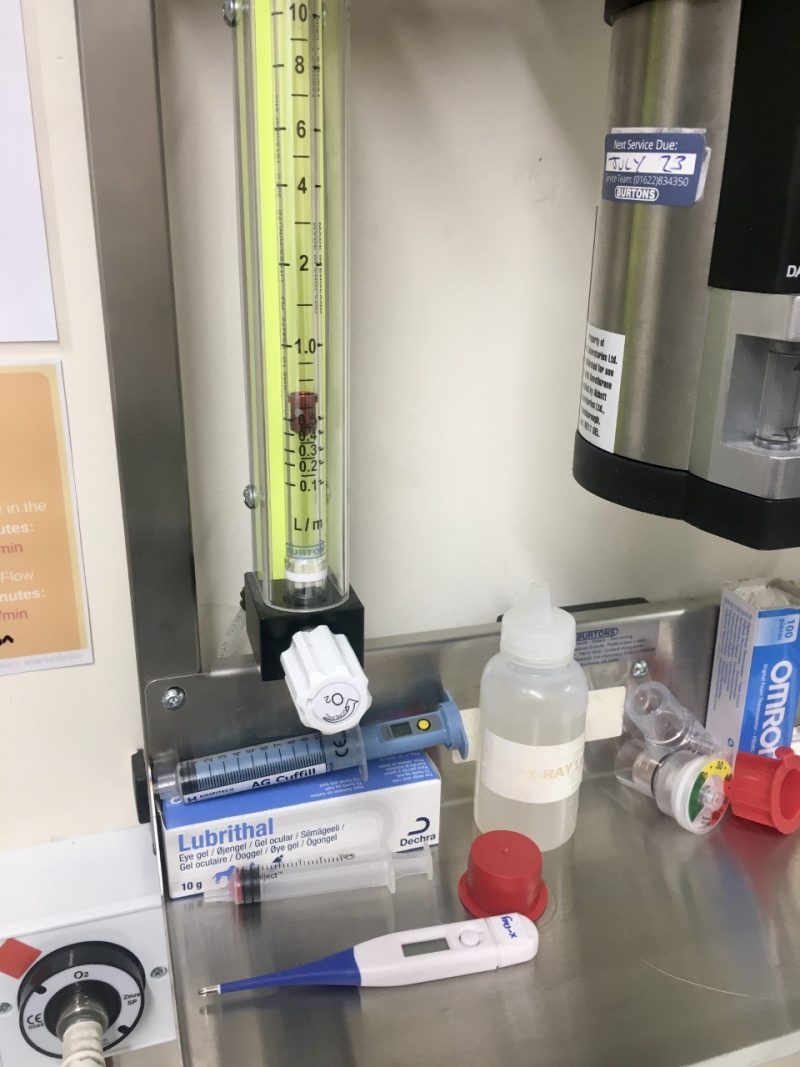 The nursing team have switched to Low Flow Anaesthesia to reduce greenhouse gas emissions.
Photo Credit: Rachael Honeyman
November 2022 saw a nationwide Antibiotic Amnesty which we were all too thrilled to get involved with. Antimicrobial resistance is one of the top ten health threats facing the world today, and as health professionals it is our duty to spread awareness and advocate for proper pharmaceutical use and disposal. I was personally delighted to speak with the team at RCVS Knowledge, who shared our efforts on social media. We have had some really positive conversations with clients and sent our data and reports to the BSAVA.

We took part in the Antibiotic Amnesty.
Photo Credit: Rachael Honeyman
We also have plenty more ideas and changes in the pipeline, including:
Finding a local milkman to deliver milk for the practice staff

Installing water displacement systems in practice toilets

Installing a water butt outside to collect rainwater

Digitising more internal paperwork and email certain documentation to clients rather than printing out copies

Encouraging more clients to return old or unused medicines for safe pharmaceutical disposal
Being part of the wider IVC Evidensia company we are fortunate enough to have access to some great resources on improving sustainability in practice, including the Positive Pawprint strategy which is based around three key pillars, and the areas of focus within each:
People – team engagement and wellbeing, community engagement, learning and development

Planet – environmental impact, team engagement, waste and resources, energy and climate, biodiversity

Pets – quality improvement, infection prevention and control, welfare, nutrition
IVC also provides grants to practices to help with their sustainability efforts, and have a checklist practices can follow to work towards Positive Pawprint Partner status.
We are still early on in our sustainability journey but it is exciting to see where it will take us, knowing that each step we take - whether big or small - will have a positive impact on the world around us.