Case Study: Mayne Vets, Essex
"Helping the planet as well as our pet friends really go hand in hand."
Lindsey Raven Emrich
Mayne Vets is a modern, forward thinking team with young families, so we all appreciate the importance of looking after our environment for our children's future and the animals that inhabit this planet. The management share my concerns with sustainability and environmental issues, so have allowed me to encourage this within the practice. We are a small animal practice in North East Essex with a team of 15 employees.
Our area of concern is the direction the planet is headed with regards rubbish mountains and over-use of resources. Medical professions are a tricky area to work with regarding single use disposables; however, around this we felt there were things that could be done to lower our environmental impact. The management could also see the benefits for the environment but also in reducing outgoing bills.
Starting small
We initially made some changes to the practice such as draft proofing and LED lighting, which have had a positive effect on reducing bills and electricity usage.
"Even the small changes can limit our impact on the environment."
Each of our nurses have their own pair of marigolds (washing up gloves) for cleaning instead of wasting endless disposable gloves. Whilst these themselves don't last forever, it was felt they would decrease the amount of waste long term. We have switched to using old drip lines as tube ties and are looking into paper bags for clients once our enormous stash of plastic bags has been used up.
An area we will also explore is the use of a refund/hire system for pet shirts. Textiles is a huge area that is currently not sustainable so we look forward to exploring how this could work, maybe even involving those hard to recycle buster collars. We also look forward to reducing gaseous anaesthetics where possible in the future with isofluorane being a big contributor to greenhouse gases.

Environmental Accreditation
After being inspired by watching one of the Davies Vets' first webinars on this topic at one of our continuous improvement meetings, we looked into the 'Investors in the Environment' scheme. This seemed to be the right framework for us, providing support, ideas and encouragement where needed. Thankfully our supportive management decided to sign us up! There is an annual fee for this, but we could see its benefits in assessing our impact on the environment and identifying where improvements could be made. We have now achieved Bronze accreditation which has been the 'mid-COVID boost' the team needed.
Recycling
We have a great staff recycling centre in the staff kitchen, and we recycle lots of waste using the terracycle schemes.
"We have easily increased our recycling and decreased our landfill, which is a great bonus for the planet and those rubbish mountains."
We are lucky that our local council recycles the big four: cardboard, plastic, glass and tins. We will be exploring other recycling companies to make the process a little more streamlined in the future.
When we started on this mission, we all made a 'planet pledge', which we will be revisiting this year so we can all see how we have done and set new pledges for 2021 (See photo).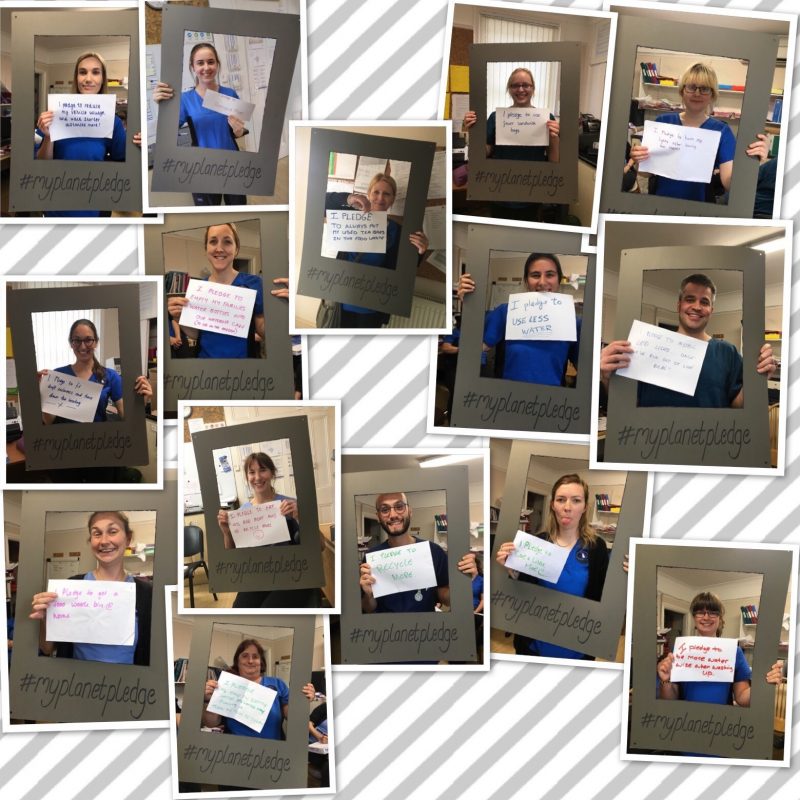 Tag: Mayne Vets staff take a Planet Pledge


Renewables
We have now moved to 100% renewable electricity and are waiting for our smart metre to be fitted. Doing a radiator audit and making sure the building was being heated efficiently has had a huge impact on reducing our gas and electric bills. The building has storage heaters as well as gas central heating, so it's been a real education figuring out how best to use them.
"Luckily we have a great green team that is always coming up with ideas and a really supportive practice team that is really open to our ideas. There is always something else we can do or work towards to reduce our impact on the the planet."
Wellness Garden
Other future projects include creating a wellness garden in our current waste land/storage area - this will be an area for insects and nature as well as an area for staff to enjoy when on lunch breaks or for staff meetings.
When we as veterinary professionals qualify, we pledge to look after animals, and an important way of doing this is by looking after the environment we all live in and depend on. So helping the planet as well as our pet friends really go hand in hand.
We are truly so proud of what we have achieved. Our tips for other practices would be: start small, keep it fun and don't get overwhelmed. Present your ideas to the team and try to encourage them with little competitions. The cliche 'every little helps' really applies. If you have a passion, lead by example, inspire others and they will get inspired too. Things will become easier in the future for us to be sustainable, but in the meantime view every resource as a valuable commodity and enjoy the journey.
"Our tips for other practices would be: start small, keep it fun and don't get overwhelmed."