Meet Dauda: Veterinary intern and One Health advocate
"Veterinarians can join forces with environmentalists to develop ways to reduce the impact of plastic pollution on terrestrial and aquatic animals."
Dauda Ayomide Onawola
Hi! Please tell us who you are and what you do
I am Dauda Ayomide Onawola from Nigeria. I graduated a month ago and am presently taking my internship at a private veterinary organization (Ambuvets Konsult Nig. Ltd) which runs a vet clinic and a disease control outfit. I am keenly interested in environmental conservation and sustainable practices in the livestock industry for community development and economic growth. This is a multifaceted affair but as an advocate for the One Health approach, I possess the natural propensity to pursue it.
When did you know you wanted to work in the veterinary profession?
I was always thinking about treating animals and I always had an interest in wildlife, but in my second year as a veterinary student, I discovered that the potential in the livestock sector is grossly under-tapped in my country and this triggered my interest in the animal production branch of veterinary medicine.
"I am particularly interested in the multiple One Health benefits of efficient livestock production systems."
What is your favourite part of the job?
What I love most about my current internship is the project design and management, which I am getting to learn directly under the CEO's tutelage. The experience is quite educative and for me as a person, it is what I need at the moment. Many people have great ideas and sometimes even the resources to realize these ideas, but how to establish efficient and logical action plans that will ensure impact delivery is often lacking. After my stay here, I believe this will not be a problem for me.
What is the most challenging part of your job?
Having little time to rest and for myself would be the answer to this question - considering the importance of wellness and mental health.
Do you have any tips for achieving a good work-life balance?
The only hack I have is doing what you have a deep passion for. The logic behind this tactic is simply that you will always want to do more and every achievement is personal and deeply satisfying. As such, fulfilment in life and productivity at work tend to be commensurate.
How has environmental issues affected your life and how did you become interested in sustainability?
In my undergraduate days, I took my industrial training at the state veterinary clinic when I was going in to year 5. During this period, there were several cases of rumen impaction (in simple terms, accumulation of indigestible foreign materials in the rumen) and in all the rumenotomy procedures I participated in, we removed plastic materials from the rumen of the sheep, goat or cattle.
There is only one explanation for this - the indiscriminate disposal of plastic waste that has been induced by increasing demand and use of items packaged in non-biodegradable plastic materials, left the ruminant animals with no choice in some settings.
"This was when I realized plastic pollution is a threat to all lives!"
Over time, it became clear that a significant portion of the human population don't care very much about the environment. This triggered my interest in planetary health and motivated me to talk about the welfare of animals (aquatic and terrestrial) in the face of plastic pollution, to highlight how serious veterinarians need to take environmental issues including plastic pollution, CO2 emissions, and so on.
But then, sustainability needs to be considered in many aspects of the profession. For example, in veterinary practice, business is very important to sustain the practice. You need paying clients to maintain and grow the business. Also, interventions in the livestock sector such as disease control programs, market access, training on improved production and disease prevention need to be sustainable too, or we will only go round in the same circle as long as we don't recognize the importance of sustainability in all we engage in as veterinary professionals.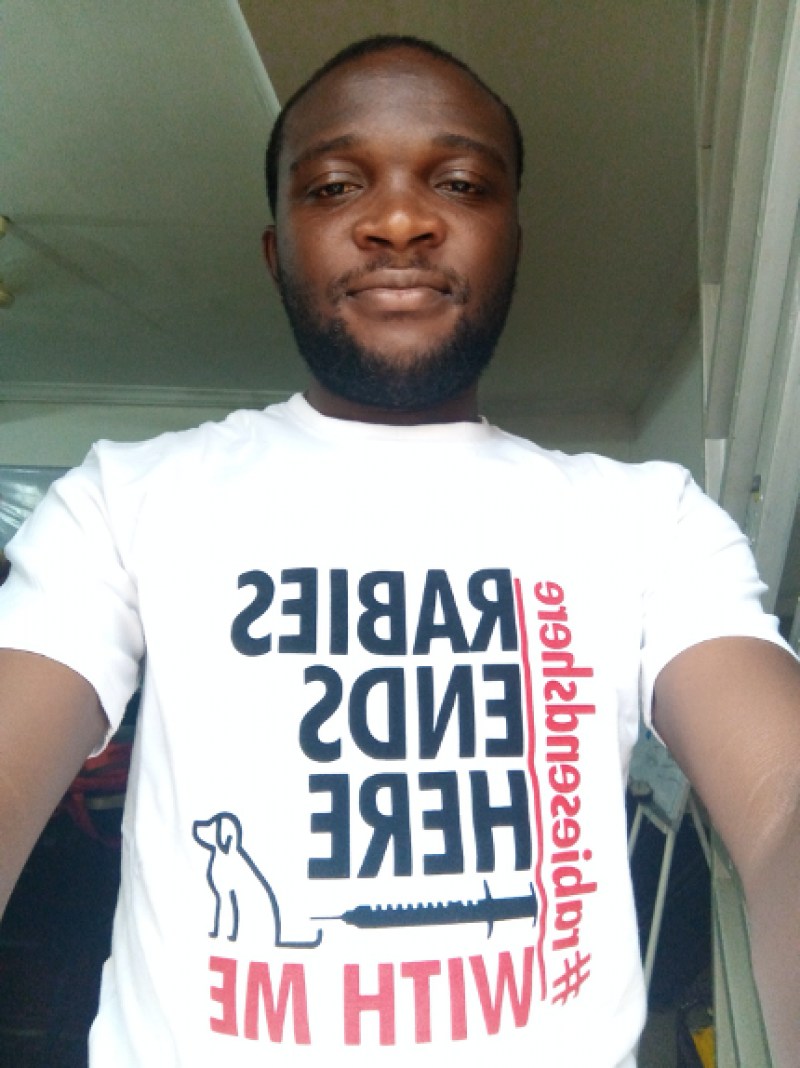 How do veterinary professionals currently help to drive sustainability?
There are veterinarians out there now playing their part in establishing sustainable practices and contributing towards planetary health. I have seen a couple of vets producing fashionable and re-usable scrubs as a way to reduce single-use scrubs (@drwoofapparel on instagram for example).
I am presently taking my internship with Ambuvets Konsult Nig. Ltd where we are working so hard to establish a sustainable vaccine delivery model for PPR and NCD in collaboration with the state government and I am also working with a team in Tanzania (remotely) to establish a sustainable model for access to animal health services and veterinary extension services.
"I want to believe there are many such endeavors around the globe and I wish us all success (including Vet Sustain)!"
What do you feel are the major opportunities to drive sustainability in the veterinary sector?
There are many opportunities for the veterinary sector to drive sustainability within and outside the profession. Veterinarians can join forces with environmentalists to develop ways to reduce the impact of plastic pollution on terrestrial and aquatic animals. It is also possible to help local and national authorities in creating sustainable models in disease control, livestock production among other things.
Have you faced any challenges in your profession or life that have prevented you from pursing environmentalism?
Basically, I would say compliance from the public has been as difficult as expected. I have experienced this personally while trying to propagate awareness on environmental sustainability, but this is not a reason to back out, it is not expected to be easy so we just have to stay true to the cause and time will bring the system changes if we keep pushing.
What are your top tips for veterinary professionals wishing to take the first steps to drive sustainability in their roles?
For now, I would say, trying to identify things that are to be changed in your working environment that will support environmental and practice sustainability, then following them up in the best manner with an action plan. It is also very important to be steadfast because these changes take time.
If you could wave a magic wand and make one improvement to drive the sustainability impact of the veterinary profession, what would it be?
Clear out all plastics from the planet (oceans and land) and restart the world without plastic!