Pioneering research into the environmental impacts of pet parasiticides
Vet Sustain
Read the full article
A rapid evidence assessment of the potential risk to the environment presented by active ingredients in the UK's most commonly sold companion animal parasiticides (Wells and Collins, 2021)
Chemical contamination of the natural world is a key environmental issue and is most urgent in the green and blue spaces of cities on which so many people depend for their leisure and physical and mental well-being. With pet parasiticides now found in urban areas and known to disrupt ecological communities, Centre for Environmental Policy (CEP) MSc student Clodagh Wells has reviewed the risk that these present to our parks and streams. Her findings have recently been published in Environmental Science and Pollution Research.
Regulatory approval of parasiticide products rests on the assumption that their benefit outweighs their harm. For pets, this assumes that the route to the environment is negligible, and the harm they cause has not been sufficiently characterised for this to be sound. Even if the risk posed by a single dose is indeed small, the environmental pollution risk posed by millions of doses must be investigated.
This work, advised and supported by Andrew Prentis of Vet Sustain, which champions sustainability by inspiring and enabling veterinary professionals, will now be built on in two ways. Firstly, we will estimate the real likelihood of animal and human infection or ill-health through parasite infestation so that we can contribute to correct cost-benefit evaluations. Secondly, a team of researchers led by Prof Guy Woodward at the Silwood Park Campus is currently assessing the impact of parasiticides on aquatic communities using a wide range of cutting-edge techniques in the Silwood Mesocosm Facility and in natural systems around the UK. This research is supported by funding from the NERC Emerging Risks of Chemicals in the Environment (ERCITE) Programme. Together, these will support a critical assessment of current advice to dose animals regularly throughout the year to prevent what may be very unlikely infestations. The number of these doses impacts both the owners' pockets and the environment and might be much less necessary than many think.
Tilly Collins of the CEP who supervised Clodagh's work said 'Urban greenspaces are precious and we will not succeed in promoting their biodiversity with this level of contamination. Clodagh's excellent work lays the foundation for drawing attention to this under-studied, but important source of ecotoxicity'
Miss Wells said, 'I'm a dog owner who wants the best for both my dog and the planet, so I was very concerned to learn that the products I use on my dogs may be causing environmental damage.'
References
1. Shardlow M (2017): Neonicotinoid Insecticides in British Freshwater, Buglife. https://cdn.buglife.org.uk/201...water-in-the-UK-final-2-NI.pdf
2. Miller TH, Ng KT, Bury ST, Bury SE, Bury NR, Barron LP (2019): Biomonitoring of pesticides, pharmaceuticals and illicit drugs in a freshwater invertebrate to estimate toxic or effect pressure. Environment International 129, 595-606.
https://doi.org/10.1016/j.envi...
3. Miller JL, Schmidt TS, Van Metre PC, Mahler BJ, Sandstrom MW, Nowell LH, Carlisle DM, Moran PW (2020): Common insecticide disrupts aquatic communities: A mesocosm-to-field ecological risk assessment of fipronil and its degradates in US streams. Science Advances 6. 10.1126/sciadv.abc1299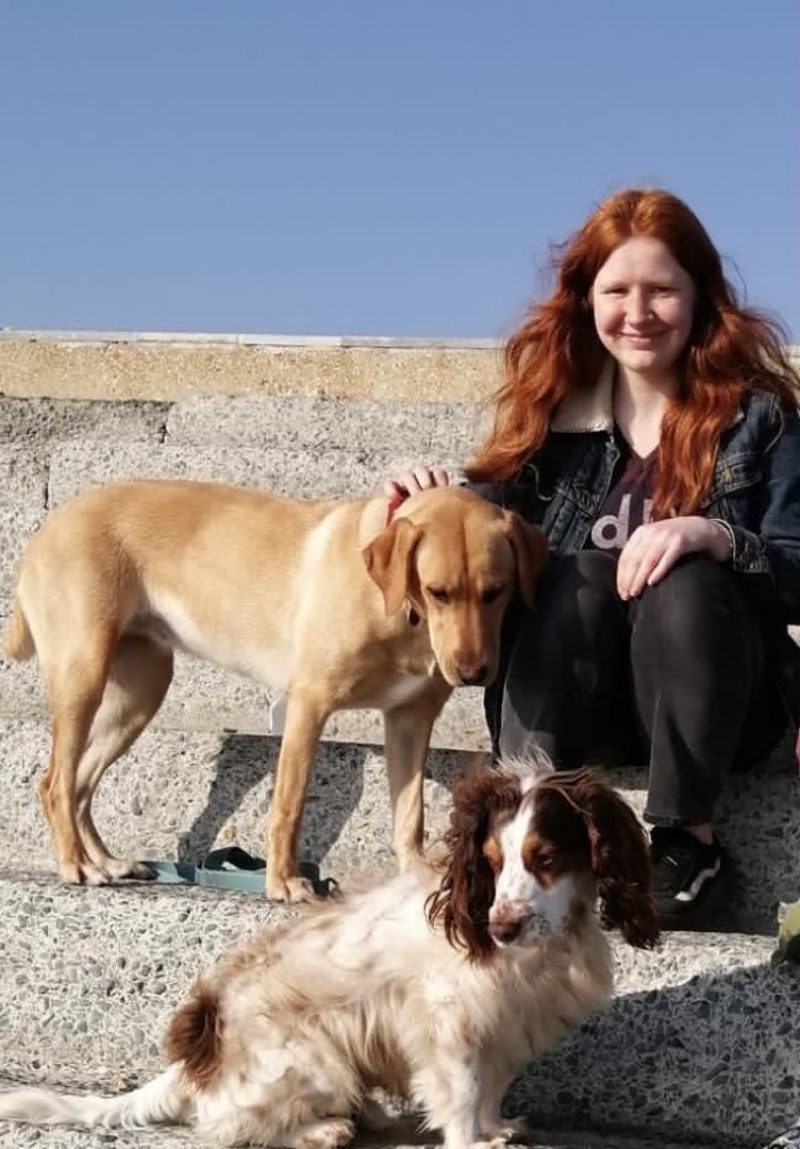 Miss Wells and her canine companions. Photo Credit: Clodagh Wells.