VetMedAid: Cutting waste and delivering vital equipment overseas
VetMedAid offers a win-win situation for practices, clients, animals and the environment.
Charlie Jackson
Here at VetMedAid we're all about business: helping UK vet practices save money and attract clients.
Well, actually we're more into the 'reducing waste and supplying vital equipment to charities in need overseas'. But helping UK businesses is a by-product we offer in return for the generosity of our donors.
Let me explain.
VetMedAid is a student-led charity with a simple ethos: to stop waste, and to stop shortage. Vet practices in the UK are forced to produce vast quantities of unnecessary waste by expiry dates and stringent usage policies, as well as a constant flow of new technology and equipment - resulting in perfectly usable kit going in the bin. Meanwhile, charities in other countries are desperate for supplies, which may be prohibitively expensive and/or difficult to source.
We tackle this problem by collecting consumables and equipment (gauze, bandages, outdated surgical tools, drapes PPE etc) from our donor vet practices and delivering it to clinics and charities overseas. This not only helps clinics in need, but also reduces waste in the UK, as well as reducing the carbon costs associated with disposal.
So far, we've worked with several charities, most recently Animal Care in Egypt. By sending our supplies directly with veterinary students attending EMS placements, we can bypass postage costs and therefore reduce carbon emissions of transport to the recipient clinics. The choice of charities we help has previously been dictated by where vet students are able to work.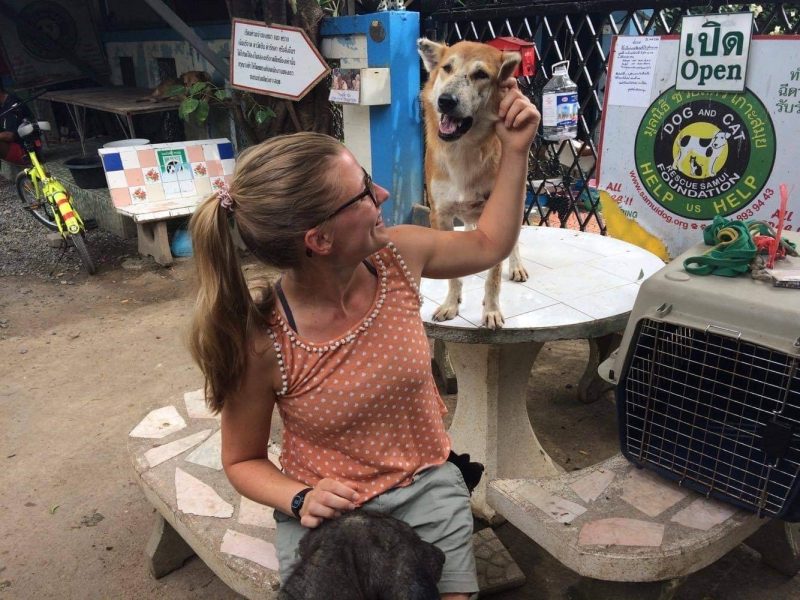 A VetMedAid volunteer makes friends with local street dogs while taking a break from her EMS placement

However, as currently few of our students are able to travel due to the pandemic, we're looking into extending our distribution service to include postage. Although this will increase our carbon footprint, this service fundamentally enables a reduction in the amount of waste entering landfill at the donor level, as well as reducing the pollution caused by the production and transport of new plastic-coated equipment for our recipient clinics (not to mention the life-saving work enabled by the donation itself).
We're also in the process of creating a platform for vet students, working vets, and RVNs intending to work abroad, which will allow them to register as couriers and deliver our stock to either the clinic they're working for, or the nearest charity in need.
VetMedAid has the potential to evolve, with the creation of an online platform whereby charities can request donations, in tandem with another page for UK clinics to register their interest in becoming donors.
But how do we help UK practices to attract clients and save money? Well, certain surgical equipment and veterinary waste has to be disposed of in a specific way, at a cost. By bypassing the need for disposal, the clinic can reduce their spending. As for attracting clients, many pet owners are increasingly concerned by their own impact on the environment. Supporting a clinic which has demonstrated their commitment to sustainability by reducing unnecessary waste through VetMedAid is a simple and obvious action to take.
According to research from YouGov and the Greg Secker Foundation, 42% of British adults believe businesses should give at least 1-5% of profits to charity by law. 85% of consumers have a more positive image of a business if that business donated to charity, and 80% claimed they would switch brands to one that supports charitable causes. Practicing social and environmental responsibility is perceived as attractive to clients and employees alike.
In summary, VetMedAid offers a win-win situation for practices, clients, animals and the environment. You can find us @vetmedaid on Facebook for more info. We'd love to hear from you!


How to get involved
To become a donor practice or recipient charity, please contact: [email protected]
Or find us by searching @vetmedaid on facebook or instagram
Or use our typeform at https://www.studentmedaid.org/vet-branch


1. Vet/nursing students
Tell your local practices and at your vet school about us
Fundraise for us! Delivery overseas is costly, and any ideas (5k runs, bake sales, cinnamon challenges- you name it!) are welcome.
Collect donations from a local clinic and deliver (or send via collect +) to our store room in Edinburgh
Share our work on social media
Consider starting a new branch of VetMedAid at your university (we'd love to hear from you!)
When travel restrictions allow it, become a courier: collect small packages of donations from our store or from our donors, to deliver to clinics abroad when you attend EMS placements (to check if your overseas placement would be a suitable recipient clinic, get in touch via our Facebook or Instagram)
2. Vets/nurses/ practice staff
Become a donor clinic, and get in touch to arrange for unwanted supplies to be delivered to our Edinburgh store room (see our social media for more information)
Planning to travel? If you'll be working at or perhaps passing nearby a worthy recipient clinic, get in touch to arrange to collect a donation from our store and deliver it to where it's needed!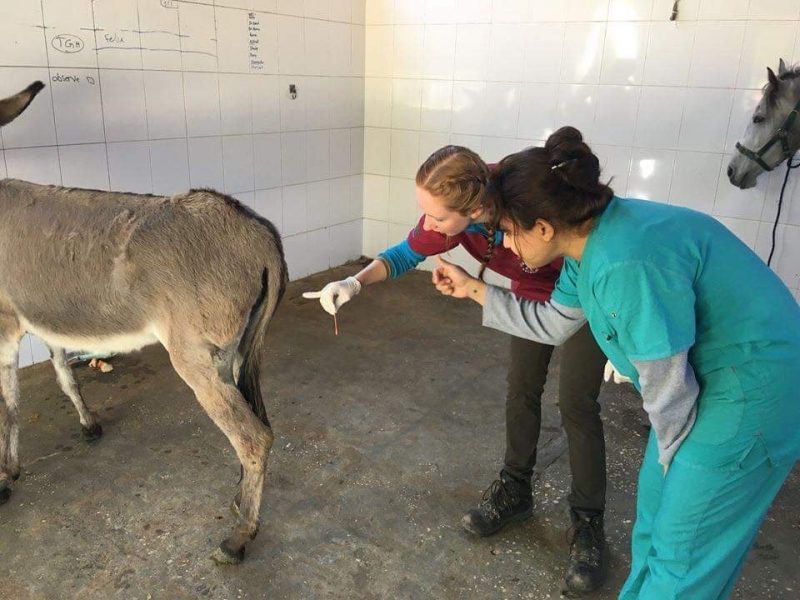 VetMedAid volunteer puts donated supplies to good use at the ACE (Animal Care in Egypt) clinic