Meet Maite: PDSA vet and sustainability advocate
"It is impossible to be perfect but I believe every little change matters."
Maite Pardo
Hi! Please tell us who you are and what you do
I'm Maite Pardo, a veterinary surgeon at PDSA Margate.
Please briefly describe your current role and professional interests
I'm a small Animal Vet, with special interests in surgery and also in sustainability, plastic consumption and zero waste living.
What does a typical day look like for you?
It will depend on the shift I am on, but taking a look at the surgical/in patient shift....I always have a quick shower first thing in the morning (now timing it to be less than 10 minutes of running water) and have a quick coffee before I make my way to work. I walk every day to work, it takes me 20 minutes if I take the short route or 35 if I decide to go around the beach (which has way better views!).
Once at work, I review the cases coming from our out-of-hours hospital and start getting ready for surgical procedures. I then go through the cases as the day passes until everything is completed and all clients are updated.
"After work I try to do some exercise, then read and research for my Instagram page @sustainablevet where I am trying to share tips and easy sustainable swaps for personal and professional life."
What is your favourite part of the job?
Surgery - it is both the best part (the most challenging and interesting) but also the most stressful part of the job. I also enjoy it when I have a quiet moment and I get time to cuddle inpatients.
What is the most challenging part of your job?
At the moment, I am finding the waste situation really challenging.
"Everything seems to be packed with plastic and with the current pandemic and the need of PPE for work, I am afraid is getting worse."
Do you have any tips for achieving a good work-life balance?
I try to do as much exercise as I can in my free time and also try everyday to do an outdoor activity - some days this is only my walks to and from work, but if I can I also do yoga or go for a run in the evenings. During the weekends I go for beach cleanings with a local group.
How do veterinary professionals currently help to drive sustainability?
I think we have a major role on leading the change that needs to happen. We can be the role models that other industries need. In general, veterinary professionals are more aware of climate change and the challenges we face than other people, and we should use that awareness to start the change, offering people solutions and ideas.
"We also have a duty of care to animals and we are currently killing thousands of wild animals with our way of living."
What do you feel are the major opportunities to drive sustainability in the veterinary sector?
Start with strategies to reduce our carbon footprint, minimise clinical waste and lead the change to reusable products.
Create awareness in our workplaces and with our clients.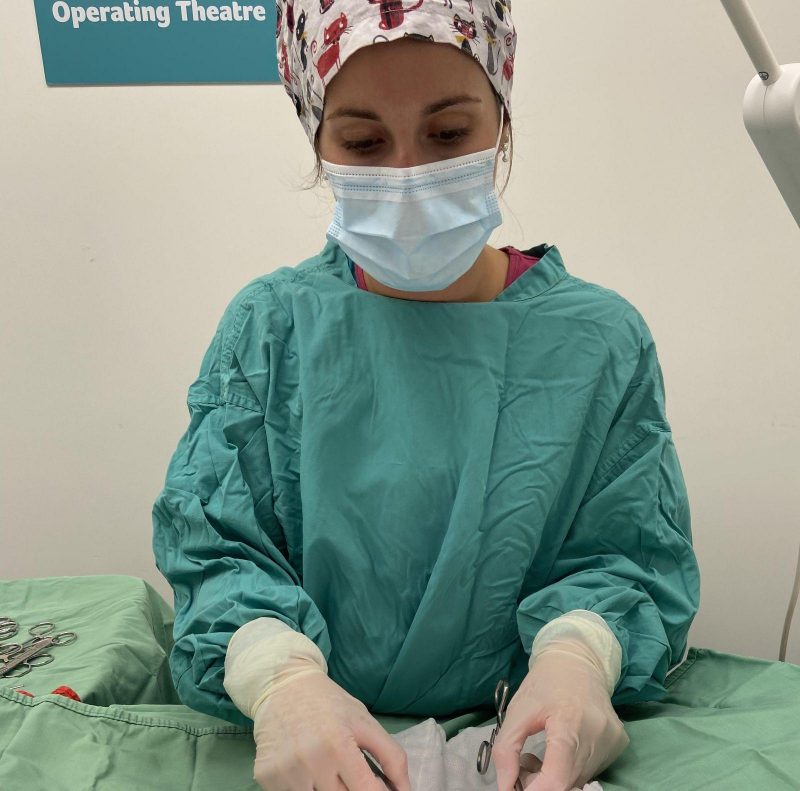 What are your top tips for veterinary professionals wishing to take the first steps to drive sustainability in their roles?
Read, read and read. There are many books, articles and blogs about how you can change and swaps you can make to minimise your own carbon footprint and also changes to make your workplace more sustainable. It is impossible to be perfect but I believe every little change matters.
At work my first swaps were: use of reusable caps for surgery, use of specific theatre shoes instead of shoe covers for surgery, use of recycled paper from sustainable sources, email as many documents as possible (discharge instructions, consent forms, invoices) instead of using print-outs, recycling bins in all areas, introduce a daily routine check to ensure that all electric devices are turned off at the end of the day and not only on sleeping mode.
If you could wave a magic wand and make one improvement to drive the sustainability impact of the veterinary profession, what would it be?
I would definitely create a replacement for all the plastic packaging we have.