The Conscious Gift Guide
Looking for some eco ideas this Christmas? Vet Sustain's community shares their tips for conscious gifting
Laura Higham, Vet Sustain
Christmas is coming! Whether you're a Christmas Person or a bit of a Scrooge, many of us mark the season by showing love with gifts. And we get enjoyment from it too – in fact, generosity has long been linked to our own wellbeing and sense of social connection, a feeling referred to as the 'helper's high'. But the unbridled consumption of "stuff", the packaging, and the unwanted gifts all add up to a footprint of Christmas that, for some of us, leaves much to be desired.
The statistics are uncomfortable - only one per cent of materials flowing through the consumer economy remain in use six months after purchase. 10 million black bin bags of gift and toy packaging are discarded in the UK each year. Christmas festivities could result in as much as 310 kg of CO2 emissions per person due to Christmas shopping. But before we dampen your Christmas spirit entirely, things are changing – the market for second-hand goods is growing rapidly, more and more companies are developing circular processes, and many of us citizens are making more sustainable choices. Although throwing money at the Christmas season often feels like the only way to get through and please everyone, cutting down on the material stuff doesn't have to be time consuming or sap all the joy – in fact research shows that experiences rather than material gifts can make people happier and strengthen relationships.
So - with the help of our little Elves in the Vet Sustain Facebook Group, we've compiled our bumper list of ideas for reducing unwanted, wasteful gifts this Christmas. We've asked ourselves – do we have to gift anything at all? If we do, can we gift experiences? If not, can we gift "stuff" that is needed, ethical or reusable? And with these principles in mind, we bring you the Vet Sustain Conscious Gift Guide. And we're not on commission - all companies and products in this article are independent suggestions or recommendations from our team and our community members. We're mindful that people's time, budgets and priorities are all very different, so we hope there are some ideas here for everyone for more sustainable gifting this Christmas.
The gift of no gift
Call us scrooges but sometimes a present exchange routine is habitual and both parties would happily call time on the annual shopping deliberations. Be the first to make the move – suggest going cold turkey on gifts entirely, or set a date to go out for coffee and cake, a walk, or dinner together instead. If a present exchange is still deemed necessary, suggest a Secret Santa, a price limit, or a theme to your present exchange – and cue the ideas below!
Gift your time
For some of us, time is one thing we don't have enough of. Taking an item off someone's job list and lifting their load may be the kindest gift you can offer – a couple of hours of childcare, a car wash, dog walk, a spot of gardening, breakfast in bed, a food shop or a homemade meal. You could make a voucher or use one of many free printables online, so you don't have to turn up on Christmas morning empty-handed.
Skills Share
Consider dusting off some hidden skills to offer as a gift to a willing recipient - fix a bike, mend some clothes, give a guitar lesson, put some shelves up, share some gardening know-how – whatever your bag, someone will appreciate a bit of your wisdom or an offer of some practical help.
Something needed
An obvious one, we admit. But some families are really struggling and need specific items to help them through this winter. Whether its kids' shoes, school uniform, winter coats, an electric blanket, extra bedding, warm slippers – these items could really help, so find out what's needed, and they don't always need to be new. For winter woollies, Camilla Sherwin is gifting recycled cashmere wrist-warmers this Christmas, or you could go for recycled wool blankets. If you want to and can lend a hand outside your own network, many charities publish their wish lists to guide gift donations, like local womens' refuges, refugee shelters, local foodbanks, hospices or maternity wards.
Charity Membership
Nature or animal welfare charity subscriptions are a great way to support organisations whilst giving family and friends free days out and other benefits – check out The National Trust, RSPB, Wildlife Trusts, local wildlife parks and many other options.
Eco-crafts
Our community was brimming with ideas and experience of crafting memorable gifts for friends and family, like bee and bug hotels, beeswax food wraps, bird, bat and hedgehog houses, bird feeders, wildflower seed balls, or homemade bath bombs. Kate Binns on the Vet Sustain Facebook group commissioned a nearby handy neighbour to make two hedgehog houses out of old pieces of wood as gifts, and recommends Dave Goulson's You Tube channel for instructions on creating your own bee hotel. Linka Sendall crafted chopping boards with her family as gifts one year, using local timber. Homemade edibles are popular too - Lizzie Youens makes up jars for kids containing all the ingredients for cookies or cakes, and other suggestions included chocolate bark, fruit leather, Christmas cookies, marshmallows, jam, chutney and infused spirits.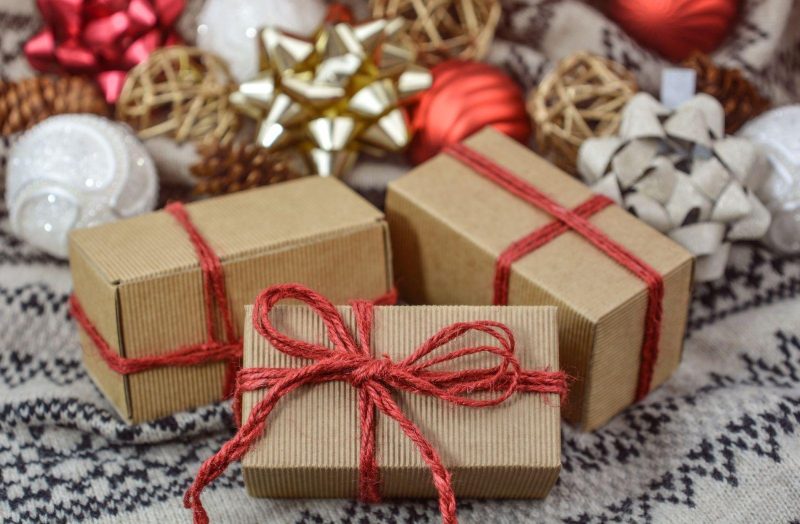 Personalised care packages
A box of selected goodies for a loved one might include some homemade edibles or bath things, with some ethical products you know they'll enjoy. A themed activity box like a homemade clothes repair kit or home spa set might also go down well. Alice Judge gifted a selection of plastic-free goodies including reusable razors, dental floss and shampoo bars, and Guen Bradbury recalls receiving a lovely homemade game for her toddler, consisting of a bag of pinecones, shells and leaves together with matching cards. Curate your own themed parcel in an old shoebox or brown kraft box, or some companies will do the hard work for you by putting together selections like kids' play boxes from Lovevery, circular skincare bundles from Upcircle, vegan goodies from Go Ethical or beer and snack boxes from Etsy.
Charity Sponsorships
For a fun way to support a charity, Nia-joelle Weinzweig recommends twinning your friend's toilet, or sponsoring a wildcat or other species with The Wildlife Trusts in their name. Former Vet Sustain director Simon Doherty suggests buying a virtual gift from Ripple Effect (formerly Send A Cow) and using them as a stocking filler, a Secret Santa gift or even as a place setting at your Christmas Dinner.
Go green
We love Suzanne Rogers' tip of propagating plants and gifting them in second-hand or recycled pots, cups or tins. Consider species that are easy to propagate from cuttings, root division or 'pups', including Philodendron, snake plants, spider plants or succulents. If you're not into propagation or short on time, think about gifting some spring bulbs planted in containers. Hannah Kenway is asking for trees this year – so if your giftee is a keen gardener with the space, think about a wildlife-friendly species or two for an orchard or hedgerow from The Woodland Trust. For those with small spaces, a window box with edible herbs, or seeds and a container for a nectar bar for spring, might be well received.
Gift of learning
Hugely popular amongst the Vet Sustain community is the gift of a workshop or course. Helen Gould loved receiving a voucher for a local foraging workshop, Hannah Kenway has gifted surf lessons (which can be at indoor centres like The Wave in Bristol), and Hannah James recommends virtual cooking lessons with Migrateful. Do some research locally, tailor the workshop to your recipient, and consider in-person courses as well and online learning, with some nice creative ones offered by the likes of Domestika.
Hampers
Who doesn't love a hamper of delicious goodies to graze at Christmas - Emma Stuart in our Facebook community recommends curating food hampers from local businesses like farm shops, and adding a personalised selection of cheeses, jams, chutneys, biscuits, beer - all consumable and ideally presented in reusable or recyclable packaging. Try to select long-life or preserved products to reduce the risk of food waste.
Subscriptions
Subscriptions are popular for gifting by members of the Vet Sustain community - magazines or journals like the beautiful SoulKind is recommended by Ebony Escalona, and Positive News recommended by Hannah James. But subscriptions can take so many forms these days – recipe boxes, mindfulness and meditation apps like Headspace or Calm, ethical coffee deliveries from Source Climate Change, book subscriptions like the Hand-me-down book club or for children the Little Box of Books, baking box subscriptions from Honeywell Bakes, kids nature and craft boxes like Mud and Bloom, and use-and-return schemes for kids toys like Whirli or bikes from The Bike Club. You could support farmers by ordering produce subscriptions direct from the farm gate, like these cheese selections from the calf-at-foot dairy farmers The Ethical Dairy.
Good company
Whether your gift recipient is a new parent, busy shift worker, or solo-living neighbour, some time out together could be just the thing – consider popping round over the Christmas period bearing breakfast and coffee, or gifting a voucher for a lunch date, spa session, or a surprise full-day out. Megan Williamson from the Vet Sustain team suggests treating a friend to an afternoon tea, and Hannah Kenway recommends gifting tickets to Giffords Circus.
Mix Tape
We've gone full-on 90's here in a bid to revive the most excellent, long-lost mix tape. Thanks to the digital age this might take the form of a Spotify playlist – and putting together the tunes that you both love and share memories of, or new songs and artists you think they'll like, would make a cheap, thoughtful present for any music lover. The above might apply for kids too, by including tunes, nursery rhymes and stories for car journeys or bedtimes (and would win you some kudos from the parents too). Vet Sustain director Laura Higham tried this by creating a sleepy bedtime mix for her baby nephew. A self-recorded video might be a great option for friends and family separated by distance.
Family recipe, craft or memory book
Building a personalised book of photos, recipes, family activities or stories might be a great way of sharing memories and passing them down. Many companies offer glossy digitally printed books but a good-old ring binder or recipe file will do just as well! Or consider framing an old recipe, treasured photo, or kids' art work for a cheap and personal gift.
Reusables
We're under no illusion that reusable cups and straws are THE answer, but they will go some way towards cutting down on single-use plastics and turning the tide on our throwaway culture. Make sure that if you're gifting reusables, they come recommended or you've tried and tested them yourself, to make sure your giftee doesn't end up with a malfunctioning item that ends up in landfill. Reusable water bottles, coffee cups, cutlery sets, baby wipes, cloth nappies, refillable deodorants… there are endless options, and some nice examples to be found at Wearth. For veterinary friends, check out All Scrubbed Up for scrubwear and MolyMed Supplies for a range of reusable goods.
Second-hand games
Will Wilkinson and Ebony Escalona enjoy gifting games, like second hand ones from local charity shops or Ebay. A great way of getting family or friends together over Christmas for whimsical fun or tense competition! For games with an environmental twist, check out Ecosystem, Photosynthesis, Bug Bingo or Go Find It Outdoor Scavenger Hunt.
A good read
We're finishing with an oldie, but a goodie. A book recommendation could be just the thing, ideally a well-thumbed tone from your own bookcase, charity shop, or a second hand or independent book store. There are some amazing titles written by members of the Vet Sustain community – check out Through a Vet's Eyes by Sean Wensley, a number of amazing children's titles by Jess French, or one of Jen Gale's sustainable living guides.
So that's our lot! If you like our suggestions or have some recommendations of your own for conscious gifting, do get in touch via our social media or tag us in with the hashtag #consciouschristmas.
No affiliate links are contained in this article. Companies and products are independent recommendations, and they have not been verified for their sustainability credentials, so please do your own research before making any purchases.